James Hall talks Logistics, Cloud and HPE GreenLake
James Hall talks Logistics, Cloud and HPE GreenLake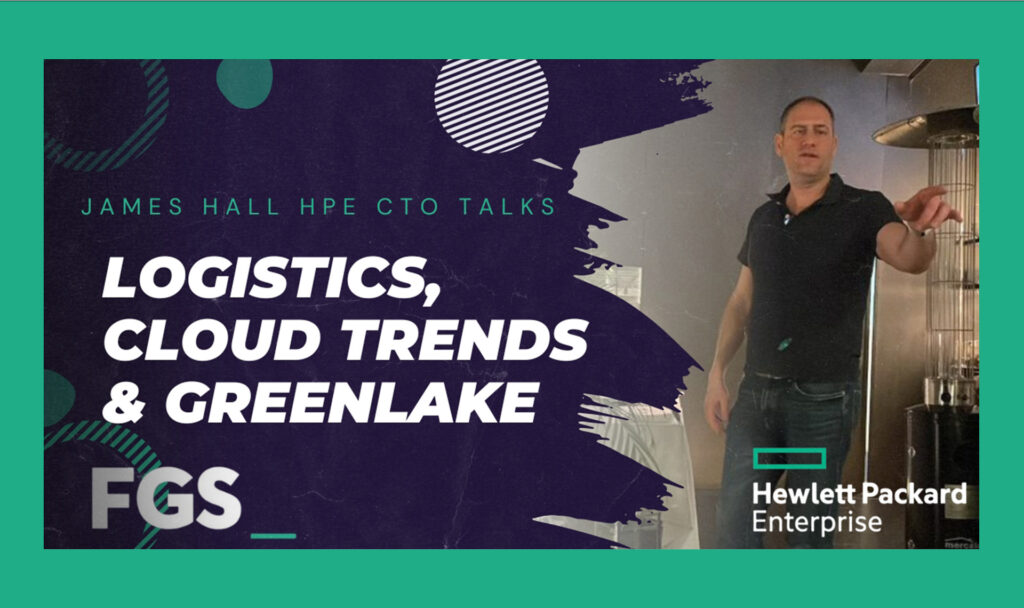 We were delighted to catch up with James Hall, CTO at Hewlett Packard Enterprise Global Storage at a recent FGS event in Malta. Peter Stroud asked James to share his thoughts on some of the big trends and recent developments in the market, and to talk about HPE GreenLake.
Logistics and Supply Chain
Pete started off by asking James what he's seeing on the logistics side.
James: The consumer PC and smartphone markets have dramatically slowed down and we'll probably see some price reductions. The supply chain problem is not going to go away because China is in and out of lockdowns and a lot of our power supplies and other items come from that region. But prices are going to fall and the supply chain should improve, but it may not return to normal for at least 12 months.
Over the last 3 years we've created a lot of what we call mainstream products. We now hold over $2 billion worth of stock of mainstream products. They are the sort of things that every customer puts inside a server – NIC cards, AMD chip sets or Intel chip sets. We've also regionalised all of our manufacturing.
In all of our product lines where we had a single point of supply, we have architected that out. We've done that in Aruba switching and ProLiant. We're not quite there yet on Synergy. We have spent billions of dollars on our supply chain, consolidating our own internal systems to try and get to a point where we can ship you stuff on time.
Cloud
Pete sought James' view on the latest developments in the Cloud.
James: A big topic now is where you can put power and data centres. The prices haven't really changed over the last five or six years but you'll have seen big numbers of people being laid off by the cloud providers – around 25,000 by AWS and Microsoft. They're doing that so they don't have to put their prices up. It's an offset thing and they cannot do that forever. You can't lay off another 25,000 people next year because the market will fall apart. People won't necessarily come out of the public Cloud, but they will start to look at alternatives. We are on a bit of a precipice at the moment on the public Cloud.
Our other big challenge is with our colocation services. We have many colos around the world but we have a problem in Slough. We have some reserved space in Slough, but no company can build or extend any data centre there now. It's the same in East London, Manhattan and Paris. The challenge that the hyper-scalers are facing is that local governments need to build new houses, and this is politically preferable to building new gaming data centres. So we're at this tipping point and I don't know where it's going to go.
Another big issue is sustainability. There's regulatory pressure on the public Cloud companies to declare what their scope three is. They have to tell you how much power you are drawing inside their massive shared data centre. And they can't do it, because the whole idea of the public Cloud is it's a shared resource. Google can't tell the big banks how much power draw they're using for their applications because their applications sit with everyone else's. The regulators are saying: "We need to know this and you can't do it."
Today the conversations are all about: "What regulatory requirements do you have? Sustainability? Can you actually build something and put it somewhere? Do you have any power to actually run it if you put it somewhere?" It's a massive mind shift, because now it's about power draw and sustainability, and it's about scope one, scope two and scope three.
HPE GreenLake
Pete then asked James to provide an update on HPE GreenLake.
James: With the GreenLake Cloud platform what you'll see over the next 12 months is everything in HPE starting to have a GreenLake banner. The GreenLake Cloud platform is our version of the AWS console/Azure, but it is a Cloud operating platform to manage our technology. So you could be sat here and have kit anywhere in the world, and as long as you can log into the GreenLake Cloud platform, you could patch a server, provision storage, online some storage, online a server, configure a wireless networking device or a data centre device. GreenLake Cloud platform is all about Cloud-based operations.
HPE is undergoing a huge transformation, which is all about making your life easier. We are focused on sitting on your side of the desk. When we ask customers the question: "How can we help you?" the number one answer we get back is: "I just want to go home on time."
HPE is a $35 billion business, with 60,000 people. We are an oil tanker that takes two and a half miles to turn left. Our clients have taught us that we need to innovate at a pace that we have never innovated at before. I have seen more innovation out of HPE in the last three years than I have in the previous 15.
The GreenLake Cloud platform is designed to do one thing – to help all of you go home on time. At the end of the day, if your hardware works and it performs and your end users or business-to-business customers are happy, the only other thing that counts is making you go home on time. That's what we're doing.
Note: this is an abridged version of Pete Stroud's interview with James Hall in Malta.
Watch the full interview on FGS TV here*