How IT & HR are making the employee onboarding and offboarding experience healthier
How IT & HR are making the employee onboarding and offboarding experience healthier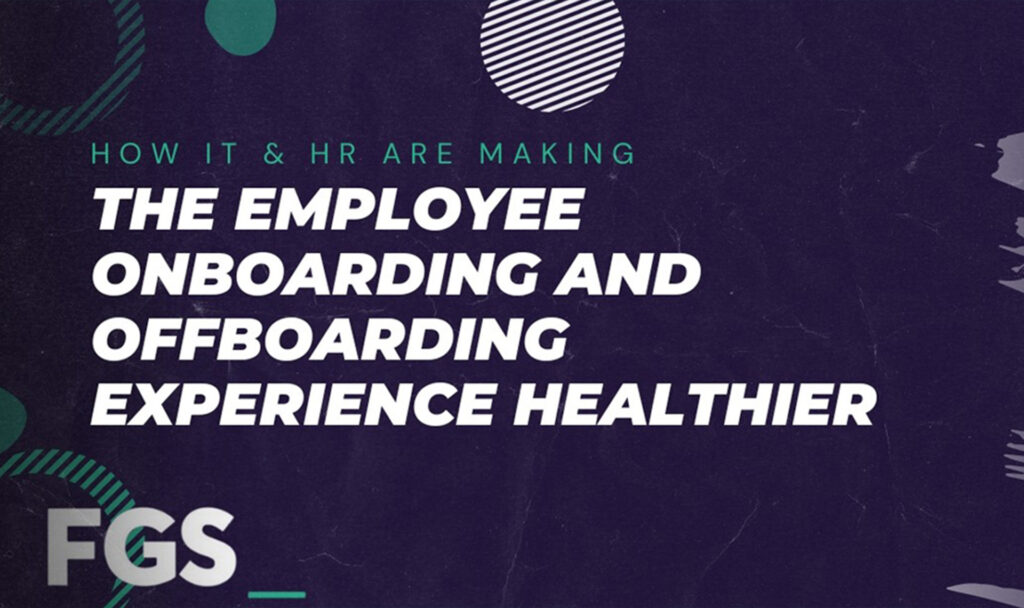 A positive workplace environment is more important than ever to prospective and existing employees, with company culture cited as a top priority for many job seekers in 2023 according to LinkedIn. In today's time poor climate, employee experience is crucial for companies to maximise output and ensure cost efficiency across the business. IT and HR must work together to transform the employee experience and this needs to continue throughout the onboarding and offboarding phases.
First impressions and an employee's first day are vital for ongoing role success, and in turn business success. According to Hays, more than half of employees say they'd go 'above and beyond' in their work if their onboarding was a good experience. Annette Andrews, ex Head of People at Lloyds of London and founder of Acaria Coaching & Consulting, says; "recruitment experience is a key moment that matters if it goes well. Onboarding is the next – that experience, it needs to be slick".
Annette and Peter Stroud, FGS CEO, sat down recently to discuss the collaboration between IT and HR, watch the video here, they talked on how the departments can complement each other's work. ''It's critical that the two work together, and it's criminal if they don't," said Peter. When it comes to onboarding, if the experience is poor the impact is huge; it can lead to lower productivity, increased people turnover and disengaged employees. When IT and HR align their systems, the seamless collaboration can help propel the entire workforce forward, and this starts with IT systems that support the work HR do on recruitment and onboarding.
The onboarding process can start straight from the point of a role acceptance, and IT systems should be in place to send automatic invites to upcoming events, company information, and everything that a candidate needs to get up to speed on their role before they even walk through the door. Companies can benefit from sending out laptops and mobile phones before the employee starts. These don't have to be connected or have permissions in place as of yet, but it means the candidate has them ready for their first day and it starts that psychological connection, beginning to make them feel valued.
Setting up IT permissions can be a time-consuming process, however with the right IT software this can be automated, helping HR and IT to avoid any hold ups in the employee's critical early days. SureStaff, FGS' optimised workplace software, helps to streamline this process. When HR put the name and job title in the system, if the title is already recognised the rights will be created the same, then they can be authorised by the manager. The email signature is also then created automatically, making sure everything is ready for that candidate to hit the ground running on their first day.
When working within regulated markets, from iGaming to banking and finance, another vital part of onboarding that IT and HR have to collaborate on is setting up the correct regulations. "It's absolutely critical at onboarding that people have been set up with the correct rights," Peter Stroud explains, as FGS have first-hand experience working mainly in the regulated markets. Employee engagement is intrinsically linked to how people are made to feel, Annette explains "a good experience will make people more loyal to your organisation because the feel valued and recognised." All employees, past and present become brand ambassadors or detractors, and ensuring a smooth and slick onboarding process, HR and IT are working towards ensuring they are brand advocates.
IT systems can offer seamless operations around hiring, ensuring candidate progression tracking is automated. This saves HR time, keeps the business in line with any legal or regulatory needs, while collecting data along the way to help in the future of hiring. Efficient IT systems ensure mistakes aren't made by the HR team rushing processes, allowing them to concentrate on people management rather than chasing up and following emails. Candidates are happy when they are kept up to date, from an automated email to say thank you for attending an interview to details of next steps. This continues when everything is ready from them to really start their role on day one.
Peter details the benefits of FGS's software, "SureStaff links through an API to the client's current HR system, whichever they have. It can send emails out to departments to authorise new employee's system rights, and it will go on to create these for the role. It can also easily automate the updates needed when people change their name, for example get married or change genders. if someone gets suspended it will automatically lock the necessary permissions, it makes things so simple".
On the other side of employee experience, those who are disengaged not only negatively impact workplace culture and co-worker's moral, but cost businesses money. Approximately 18 percent of their salary, according to Gallup. Annette explains it typically takes someone 8-9 months to get fully operational when they are new in a business; "One company I work with say it will be nine months before they get a return on their recruitment and training investment. So, if someone leaves you in that period it's an immediate loss and you've done damage to your brand." Finding talent is expensive, a recent study by Paychex found that 80% of workers who started their job in the last year and who felt undertrained from poor onboarding plan to quit soon.
Successful offboarding starts with the onboarding process, and it is crucial that IT and HR are collaborating here too. "It's critical that at onboarding you've got the correct rights, in terms of the regulated markets there will be fines if companies get this wrong. When it comes to offboarding, if you've 400 people that have left but not been offboarded correctly, you're then paying 400 additional licenses a month," says Peter. IT can help HR make the offboarding process healthier here by providing business specific automations.
Annette is passionate about offboarding, she explains why; "when somebody leaves and goes to another organisation, if they feel they have been treated well they will remain a brand advocate." With good leavers you may recruit back in the future, this is another opportunity for IT to collaborate with HR, with automations and reminders to stay in touch. From ensuring exit interviews take place to building a pool of alumni, IT can support HR from an employee's first day to their last. Annette helped Lloyds set up an alumni network, holding quarterly events for these past employees; "IT could help automate the process of sending alumni updates, or job vacancies – they might be interested or send on to their contacts."
Having efficient IT systems in place that work alongside HR helps to ensure that candidates are made to feel valued from day one. The collaboration between IT and HR is vital in ensuring a healthier onboarding and offboarding processes, reducing the risk of regulatory and data issues and of people leaving their jobs at a cost to the company, all whilst making employees feel good and keeping engagement high.